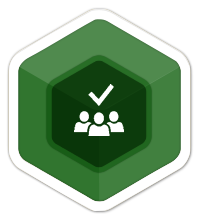 IT Skills for Students
Using Planner
Planner is part of Microsoft's Office 365 and is a task-tracking app for managing collaborative projects.
It lets users create plans, organise and assign tasks, share files, and get updates on progress. It is particularly useful for student group work.
This module explores what Planner is and how it can be used to improve your group productivity.
Activity

Using Planner

Allow 120 minutes

Work through the tasks that follow to explore Planner and its features.

Task 1: Introduction to Planner

Watch this video to see what Microsoft Planner can do.




Having trouble watching the video? Try this direct link.

Task 2: Exploring Planner

Download the Planner Instructions and work through them to find and add yourself to the Succeeding with Groups Planner.

Link: Planner Instructions

If you can't find Planner on the Office 365 apps it may be that it is the first time you have been to your Office 365 home page, in which case Planner may not have loaded itself yet. Leave your screen open on the page which shows all of your apps and wait to see if it loads - this may take as long as 10 minutes.

Challenge:

Experiment with these functions available in Planner:

Add a task
Assign yourself to the task
Move the task to the other bucket
Click on the Charts option
Find the files associated with this Planner
Investigate the other options available
Add a comment to the Word document Learning about Planner Task saved in the project files section
Revisit the Planner at a later date to see what else has been added or to remove yourself from the group

Task 3: Have a Go

Create a plan for yourself to keep track of your study.

Challenge:

Click 'New plan'
Add tasks for each paper you need to complete
Create new Buckets for Current Papers and Finished Papers
Move the tasks for each paper to the appropriate Bucket
Add events to the calendar related to each paper, e.g. assignment and exam dates (if you're not sure how to do this, check out the Outlook section of this course first)

Checkpoint

Planner Self-Assessment

Now that you've completed the activities in this module, take the time to complete this self-assessment of how competent you think you are in using Planner.

Follow the instructions by clicking the link below.

Discussion

Planner Forum

Using the forum below, click the 'Add a new discussion topic' button and perform the following tasks.

Using a PNI format (Positive, Negative and Interesting) post something that you found useful, something that you found difficult or confusing, and something that you would like to find out more about relating  to the activities in this part of the module.
Share at least one additional resource (web link, video etc.) that you think would help any other students working through this module.