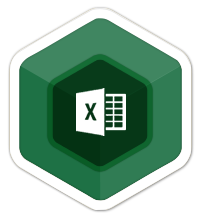 IT Skills for Students
Using Excel
Microsoft Excel is an application for creating electronic spreadsheets.
It allows you to store data, such as numbers and text in tables, which you can use to perform calculations, create charts and more.
Accountants use Excel to perform incredibly complex functions, however it is a really useful tool for students as you can use it to keep track of timetables, calculate grades and even keep track of your household budget. The activities in this module introduce you to some of the fundamental features and functions of Excel.
Activity 1

Basic Skills

Allow 60 minutes

Work through these tasks to explore the basics of Excel.

Task 1: Getting Started

Watch this video to get an overview of how to add data to Excel.

Having trouble watching this video? Try this direct link.

Challenge:

Open Excel and create a new document
Recreate the spreadsheet shown in the video

Task 2: Have a Go

Download and work through the Basic Excel Skills below to practice entering data and creating a graph (also known as chart).

Link: Basic Excel Skills

Task 3: Adding and Subtracting

Mathematical functions like addition, subtraction, multiplication and division are used in most spreadsheets.  Work through the following resource on how to add and subtract numbers in Excel.

Link: How to Add and Subtract in Excel

Challenge:

Recreate the example provided (ignore the English pound signs used - use dollars instead!)

Activity 2

Budgeting Using Excel

Allow 60 minutes

Excel is great for creating budgets as it allows you to arrange items into columns next to their cost, plus it can easily perform calculations that help you predict income and expenses over various lengths of time.

Task 1: Budgets

Work through the resources on this website and recreate the example provided.

Link: Create a budget

Task 2: Have a Go

Have a go at creating a monthly budget for yourself. You don't need to make it too complicated at this time. Keep it simple - you can always add more to it once you feel more confident.

Challenge:

Create a budget for yourself for one month by comparing your expenses to your income
Now add another month's worth of income and expenses in the column next to the figures entered above
Add one or more graphs to display your results

If you would like to know about Excel check out the following website.

Checkpoint

Excel Self-Assessment

Now that you've completed the activities in this module, take the time to complete this self-assessment of how competent you think you are in using Excel.

Follow the instructions by clicking the link below.

Discussion

Excel Forum

Using the forum below, click the 'Add a new discussion topic' button and perform the following tasks.

Using a PNI format (Positive, Negative and Interesting) post something that you found useful, something that you found difficult or confusing, and something that you would like to find out more about relating  to the activities in this part of the module.
Share at least one additional resource (web link, video etc.) that you think would help any other students working through this module.