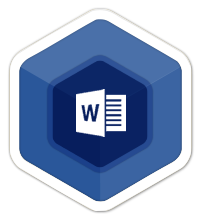 IT Skills for Students
Word for Students
Microsoft Word is a word processing application within Office.
As a student you can use Word to type up any written work, such as essays, reports and other assignments. Word also has some fantastic features to help make it easier to conduct academic writing, as well as tools to add visual design to make your content more engaging and readable.
Some of the academic writing tools in Word include:
Spelling and grammar check
Thesaurus and dictionary
References manager

Some of the visual design options available in Word include:
Changing fonts and colours
Formatting to make your content more readable and flow better
Adding shapes, diagrams, pictures and even video

Work through each of the Word modules by clicking on the tabs. You will earn badges as you learn to create a report, collaborate and create master and subdocuments using this useful application.
This module assumes that you have a basic understanding of Word 2016. If you are a complete beginner I would encourage you to check out the Word Basics section on GCFLearnFree.